ATHRISS ESSAL
From Angry Wiki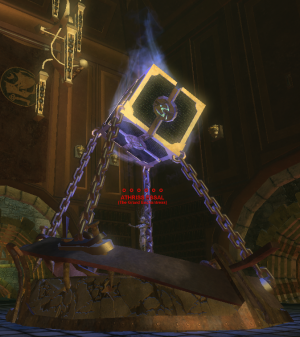 Known drops
Ancient Resonating Crystals of Devastation.png

Ancient Resonating Crystals of Painful Dispersion.png

Ancient Resonating Crystals of Winds.png

Fevered Pauldrons of Ambition.png
Known abilities
Symbol of Obstruction: Mitigation: +100%. Stun Chance on Hit: 15%.
Shield of Friction: Damage Shield: Shock.
Scream of the Grand Enchantress: The piercing screams of Athriss have stunned you and silenced your thoughts.
Shifting Aura: Incomming Healing Effectiveness: 40%.
Beguile: Stunned.
Strategy
Levitate prevent people from going on the platform, you should strip it before engage.
She will silence with a frontal AoE. Anyone that take aggro must run to the tank.
She will spawn adds. Two types of sparks:
Energy Essence. These must die very fast.
Nullifying Essence. These can be charmed so they can attack Athriss. Or they can be killed as the others.
Related quests