CORE PROCESSOR
From Angry Wiki
Known drops
Core Processor Crystal.png

Port Warehouse Galleon Plans.png

Warehouse Engineer Band.png
Known abilities
Strategy
Main encounter spawns: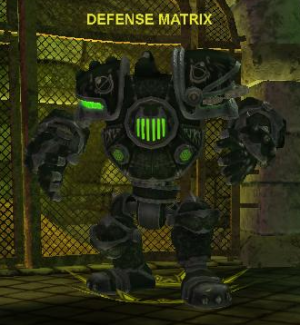 Defense Matrix: (53x6)
As the name suggests, this has to be killed before the Core can be damaged.
When it dies, you have two minutes to damage the core, then a new Defense Matrix will spawn.
Core Processor: (53x6)
After the Defense Matrix is dead, you can damage the Core Processor.
You have a two minute window before a new defense matrix spawns.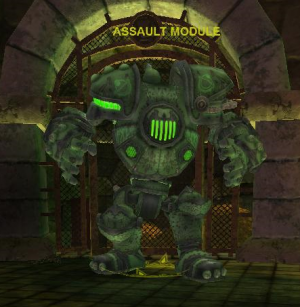 Assault Module: (53x6)
The assault module will have to be offtanked while the fight goes on. If it dies, a new one will spawn instantly.
Keep a single tank with healers at him.
He does massive kick-backs (throws you very high) so have Death March on everyone.
Secondary encounter spawns:
Grid Hunter:
Appears between Core and Defense Matrix. It roams and explodes when it gets within range of a target, doing massive damage.
Off tank must grab these as quick as possible, triggering them without hitting anyone else.
Prototype Z41X:
Kill it as it spawns
Unstable Device:
Roams freely. It explodes if hit so use no Area Effect spells or attacks.
Just leave it alone and it will eventually de-spawn.
Placement before and during the fight:
Off tank and his healers should be behind the Assault Module, with their backs against the wall.
All ranged dps should be in one or two groups, with healers. They all stand on the stack of crates next to the elevator wall.
The rest of the raid starts on the south side of the Defense Module, except for a single tank that starts on its north side.
That tank stays in that area and does not engage any of the primary targets during the fight. He/she should only engage the secondary spawns.
When the Defense Matrix dies, the up-close force moves to the Core Processor and when a new Defense Matrix spawns, they move back.
To trigger the event, a character has to stand right below the Core Processor (stand inside its target circle to be sure) and talk to it.
Related quests