Creepy Cadavers
From Angry Wiki
Chath's Base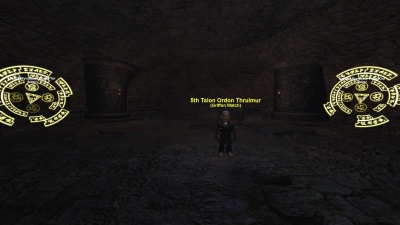 Travel to the Heroes' Plain and locate the entrance of the base (looks like a crypt), there you can meet 5th Talon Ordon Thrulmur inside. You have to talk to him and he will explain you what awaits you behind those portals.
Before you enter a portal it might be helpful to get either necro-levi or parachute, by dismounting any flying mount while in the air.
Note: You can enter any portal, but the fighting behind the portal in the north seems to be much easier.

Also it seems that the portals are bugged, it might happen that not all members of your group will be teleported, so be ready to use evac.
The bug seems to occur if any pet is summoned, so release all pets before you activate the portal.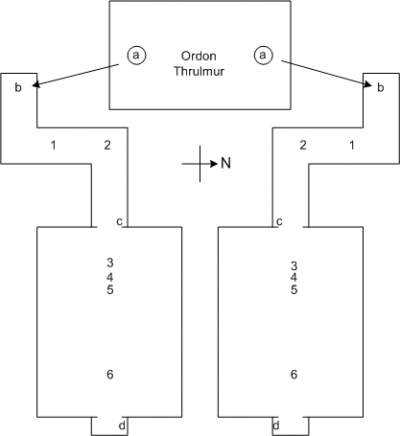 Locations
a Portals
b Spot you will be teleported to
c First corner you should fight the five waves
d Second corner you should fight CHATH
Spawn location
1 First wave
2 Second wave
3 Third wave
4 Forth wave
5 Fifth wave
6 CHATH 53x6
Strategy
The fight is timed, you only have 10min to fight the five waves and kill Chath!

Bone Slasher: immune/healed by physical

Is in the 5th wave and has to be killed first, since he seems to silence and kick.

Grafted Slasher: immune/healed by physical

Kill Grafted Slasher first in the 4th wave and second in the 5th wave, they might kick you into the spikes.

Unfortunate Test Subject: immune/healed by fire
Unnatural Soldier (Bear): immune/healed by arcane
Chath's pet: immune/healed by physical