Dazar
From Angry Wiki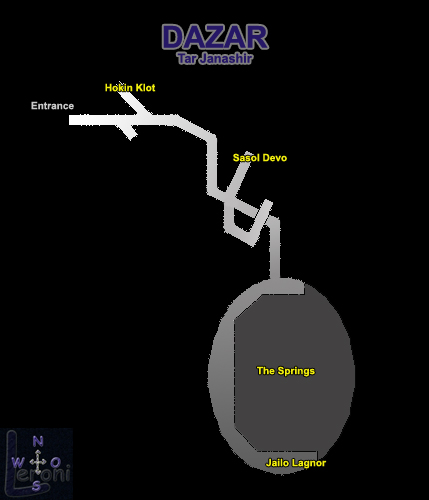 This dungeon is located in Tar Janashir and has a level range from 36-42.
The first part of the dungeon has some mobs and quests which can be done solo.
The second part seems not to be finished by now and can only be entered with levitation from the top of the large spring cave, or from a not marked entrance in the southeast part of this chunk.
NPCs
Quests
[36] The Hidden Spring (solo)

Given by Narim Kinom

Locate the hidden spring and fill the flask with water.

[36] Devour The Corrupt (solo)

Given by Narim Kinom

[36] Beneath the Water (solo)

Given by Narim Kinom

[36] Take Back the Power (solo)

Given by Narim Kinom

[36] Recover the Goods (solo)

Given by Narim Kinom

[36] Root of the Problem (solo)

Given by Narim Kinom

Slay Hokin Klot
Slay Sasol Devo
Slay Jailo Lagnor