Disciple Abilities
From Angry Wiki

Stances
| Level | Acquisition | | Skill | Effect |
| --- | --- | --- | --- | --- |
| | Unknown | | | |
| | Unknown | | | |
| | Unknown | | | |
Level 1-50 Abilities
Disciple Abilities
Level
Acquisition
Skill
Cost
Exploits
Inflicts
Triggered by
Effect
1
Start
Void Hand I
Melee attack, increases Jin
1
Start
Lao'Jin Flare I
Direct healing spell, uses Jin
2
Trainer
Blessed Wind I
Melee attack, heal-over-time to defensive target, increases Jin
4
Cyclone Kick I
A whirling kick that deals 300% weapon damage plus 60 to 68. Has an increased chance to score a critical hit.
4
Breath of Renewal I
Heals an ally for 224.
6
Falling Petal I
Strips Lao'Jin from your opponent and grants it to your allies, dealing melee damage plus 57 and increases incoming heals on group members within 10m by 15 for 5 minutes.
6
Touch of Woe I
Forms a dissonant bond with your opponent, forcing your opponent to take 35 to 42 damage every time they attack. Lasts for 2 minutes.
8
Astral Wind I
Heals an ally for 627.
8
Dodge I
Raises your chance to dodge incoming attacks by 100% for 60 sec or until you dodge or activate another ability. This turns off your auto-attack.
8
Kiss of the Slug I
Counterattack that lowers your opponent's damage by 39 and strength by 5 for attacks or 20 sec.
8
Soul Cutter I
Attacks the soul of your opponent, dealing 125% weapon damage plus 26 to 32 and lowers your opponent's hatred toward you by 693 to 733. Increases Jin by 1.
8
Void Hand II
A brutal attack that deals normal damage plus 23.
10
Astral Walk
This ability calls one of your allies across the astral plane to your spot in the temporal world.
10
Blessed Wind II
A graceful attack that deals 50% weapon damage plus 30 to 37. Heals your defensive target for 172 over 8 sec. Increases Jin by 1.
10
Inner Light I
Reveals the inner light within you. When you attack, group members within 10m are healed for 17. Lasts for 5 minutes.
10
Kiss of Heaven I
Grants heavenly life to an ally, healing them for 1146 over 32 seconds.
10
Lao'Jin Flare II
Heals an ally for 262.
10
Purify I
Removes a minor poison and minor disease from an ally.
10
Reincarnate
Brings a fallen ally back to life with a small amount of health.
10
Summon Symbol of Unity
Summons a spirit orb, which someone may use to revive you or a different fallen disciple.
10
Transcendence
Your transcendence grants you 15% spell mitigation.
10
Touch of Discord I
Surrounds your attack with Ra'Jin, dealing 400% weapon damage plus 100 to 108. Increases Jin by 1.
10
Wisdom of the Grasshopper I
Empowers your defensive target's party by increasing their strength by 28 and dexterity by 12 for 1 hour.
Level 14
Level 16
Level 18
Level 20
Level 22
Level 24
Level 26
Level 28
Level 30
Level 32
Level 34
Level 36
Level 38
Level 40

Ra'Jin surrounds your attack, dealing 400% weapon damage plus 383-406. Increases Jin by 1.

Level 42
Level 44
Level 46
Level 48
Level 50
Dropped Abilities
Superior Sun Fist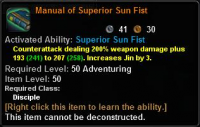 Cost:
Range:
Type:
Target:
Cast time:
Refresh:
Level:
Effect:
Superior Celetial Breeze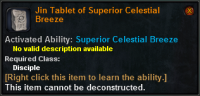 Cost:
Range:
Type:
Target:
Cast time:
Refresh:
Level:
Effect:
Favor of the Benevolent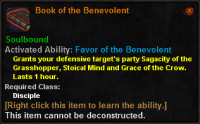 Cost:
Range:
Type:
Target:
Cast time:
Refresh:
Level:
Effect:
Level 51-55 Abilities
Concordant Splendor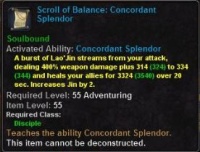 Cost:
Range:
Type:
Cast time:
Refresh:
Level: 55
Effect: