Glade of the Lost
From Angry Wiki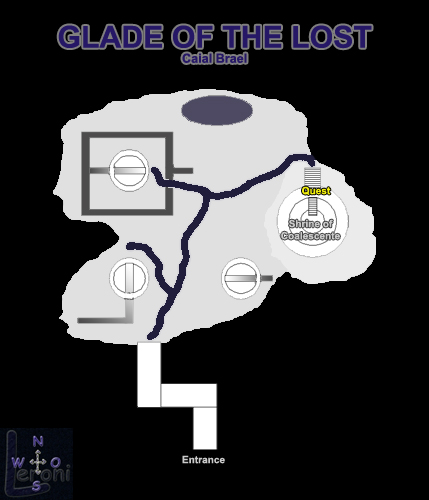 This dungeon is located in Ca'ial Brael and has a level range from 04-07.
This is a solo dungeon just outside of Ca'ial Brael and a likely stop for new Raki and Wood Elf characters. All of the quests for it are given at the Hall of Glyphs in Ca'ial Brael.
Quests
[1] Autumnglow Outpost

Given by Elder Nootsu

Travel to Autumnglow Outpost
Reist zum Herbstglanz-Aussenposten

[4] The Ulvari Disruption

Given by Elder Nootsu

Travel to the Shrine of Coalescence in the Glade of the Lost and assist Elder Nootsu.

[4] Hyaks Heirloom

Given by Noble Hyak

[4] The Missing Crystal

Given by Elder Nootsu

Crystal of Coalescent Focus

[5] The Ritual of Coalescence

Given by Elder Nootsu
Lore
The Glade of the Lost is the path by which the spirits of the dead of Kojan make their way from the world of the living to wherever spirits go when they are unable to respawn or use a resurrection altar. For some reason, the spirits have stopped passing through and are now hanging about making trouble. Elder Nootsu needs your assistance in helping the spirits resume their final journey.