Housing Items
From Angry Wiki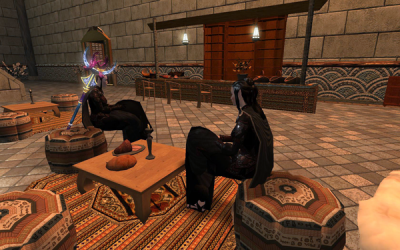 Carpenters are in charge of making most furniture. They can make chairs, cabinets, shelfs, chests and crates, tables, tableware, weapon racks, kegs, beds, trophy mounts, clocks and tools.
Mineralogists can make fireplaces, tableware, clocks and vases.
Outfitters can make baskets, rugs, pillows and beds (though the beds look more like matrasses).
Blacksmiths can make tools, tableware and lights.
Kojani Iron Light : Traditional Kojani Lantern, Eccentric Kojani Lantern, Fancy Kojani Lantern, Wall Mounted Kojani Light Stand, fancy Kojani Light Stand, Plain Kojani Lantern, Floor Mounted Kojani Light Stand, Ceiling Mounted Kojani Light Stand
Qalian Iron Tableware : Qalian Fork, Qalian Butcher Knife, Qalian Knife, Small, Medium and Large Qalian Spatula
Qalian Pyrite Light: Qalian Candelabra, Qalian Lantern, Large Qalian Chandelier
Qalian Pyrite Tableware : Qalian Butcher Knife, Qalian Fork, Qalian Knife
Qualian Iron Light : Large Qalian Chandelier, Qalian Lantern, Small Qalian Chandelier, Qalian Candle, Qalian Wall Torch
Thestran Iron Light: Small and Large Thestran Brazier, Tall Thestran Candle, Small Thestran Chandelier,Thestran Lantern,Thestran Wall Lantern, Tall Thestran Candelabra
Thestran Iron Tableware : Thestran Knife, Pan, Spoon, Pot Stand, Fork, Mug, Cauldron and Fancy Mug
Thestran Mithril Tableware : Small, Medium and Large Thestran Dinner Plate
Thestran Pyrite Light: Thestran Chandelier, Thestran Lantern, Thestran Lamp Post, Thestran Wall Lantern
Thestran Pyrite Tableware : Small, Medium and Large Thestran Dinner Plate,Thestran Fork, Knife and Spoon
You'll find a housing vendor in each housing area. They sell some furniture, flowers and other items depending on the continental sortiment.
Veterans got some furniture from claim. At the moment the claims are disabled and it's not sure, if the claim furniture will be in the game again.
During some special events such as the Festival of Gloriann you might find some housing items as well...
You can also buy housing items on the marketplace.