Infineum Sanctuary
From Angry Wiki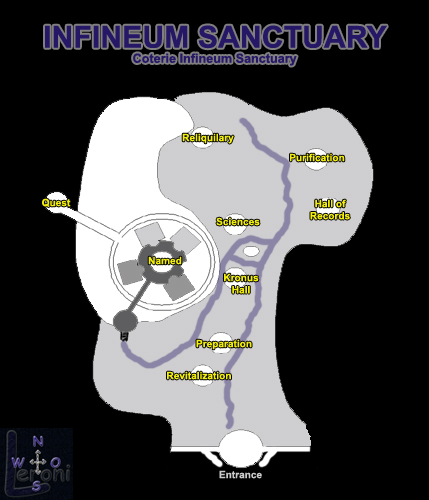 This dungeon is located in Coterie Infineum Sanctuary and has a level range from 25-30.
Inside this dungeon the mobs will drop random armor parts and gems, which can be turned in at the Shidreth Mining Company west of the entrance.
Named
Quests
After the infineum weapon questline, there are some last few steps to complete in this dungeons to get some nice armor and an orange item as quest reward:

Farm Armor
Farm Gems
Farm Key
Combine Armor and Gem (doesn't have to be something you can wear and you can buy this on the broker or have someone hand you a bindable piece to complete this bit).
Talk to the Ageless One
Kill the Four named and talk to he Ageless One again who gives you some nice orange item.
Levi your tank and kill Kronus.