MAGICBORN ABOMINATION
From Angry Wiki
Name:
MAGICBORN ABOMINATION
Level:
53
Difficulty:
6 dots
Race:
Pet
Type:
Abomination
Location:
inside the purple barrier
Chunk:
Sorrow's Heart
MAGICBORN ABOMINATION is the named boss that you need to kill on the last step of the Griffon Quest. This is a raid target.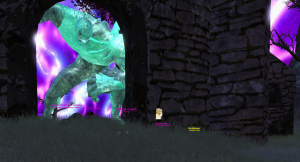 Known drops
Known abilities
Barrier Breach:
Umbral Ward:
Strategy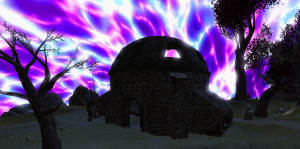 This fight is a timed fight, you can see the time ticking down in your questlog.
The abomination will spawn when 12:10min are shown at the timed quest.
It will get weakened nearly every minute, when that happens raid-members that can feign death or loose agro have to use the ability "Griffon Strike" and fd right after using it. If it was done correctly the abomination will loose 10%hp every time this ability is used. So you need ten perfect timed strikes to defeat the abomination, else you will run out of time and be teleported back to Scout Noriko Kutani.
Related quests
[50] Griffons of a Feather Ch.8 Bag'em and Tag'em
[45] When Good Souls Go Bad (quest with a 20min timer)