SENATOR DEMETRIUS
From Angry Wiki
Known drops
Scroll of Superior Chaos Volley.png

Segment of Necromancer s Skin.png
Known abilities

Major Enchantment: Soul Wrack: A magical barrier surrounds Senator Demetrius.
Stolen Vitae: Damage: +10%, +20%, +30%, etc...
Shield of Darkness: Encased in a shield of spiritual torment.
Strategy
An easy way to pull him is to pull all the mobs surrouding him. He won't come with the rest unless you hit him directly, so the tank can do that when the others are away.
Senator spawns adds in groups of 2 throughout the fight. Kill the adds fast, they have relatively few hitpoints.
Every 20% the Senator will start Chanting. When he does, everyone stops attacking. Melee attacks will be riposted and each attack increases his Stolen Vitae. Each level increases his damage by 10%.
Spiritual damage will heal him.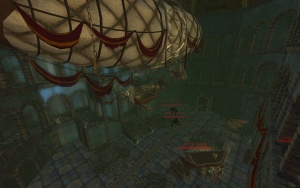 Related quests